One of my favorite books is called A Girl Named Zippy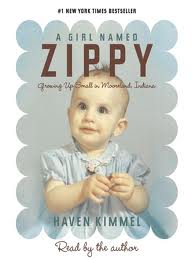 The author has one title entitled: "A Short List of Things My Father Lost at Gambling". A second entry is called "A Short List of Things My Father Won at Gambling". The lists are so funny and serve to show that her father was a huge gambler. I hope my lists show the kind of day I had and the mood I was in.
A Short List of Things That Made Me Smile Today:
1. A text message at 6:30 a.m. I received a unexpected message from a friend that I have not heard from in such a long time. That is a great way to start the week.
2. Vanilla Mocha. I treated myself on a Monday. One word: delicious.
3. Sushi for dinner. No prep work. Check. No clean up. Check. Loads of ginger. Check.
4. Twitter. Writing a tweet under 150 characters can be a challenge. Challenge accepted and completed.
5. Daylight savings. It was light out for so long today!
An Even Shorter List of Things That Made Me Want To Cry Today:
1. School Lunches. Today we learned that only about $1.00 of school lunch money goes to making school lunches. How can schools serve a healthy meal if they have so little to spend?
2. Spring forward. No thank you time change. I would like to sleep longer, thank you very much. Plus, I didn't realize how late it was and I worked past 6 p.m.
3. A huge rat. It ran through the parking lot and looked as though it could win in a fight against the neighbor's cat. It was that big. I hope he stays in the bushes far away from my front door.